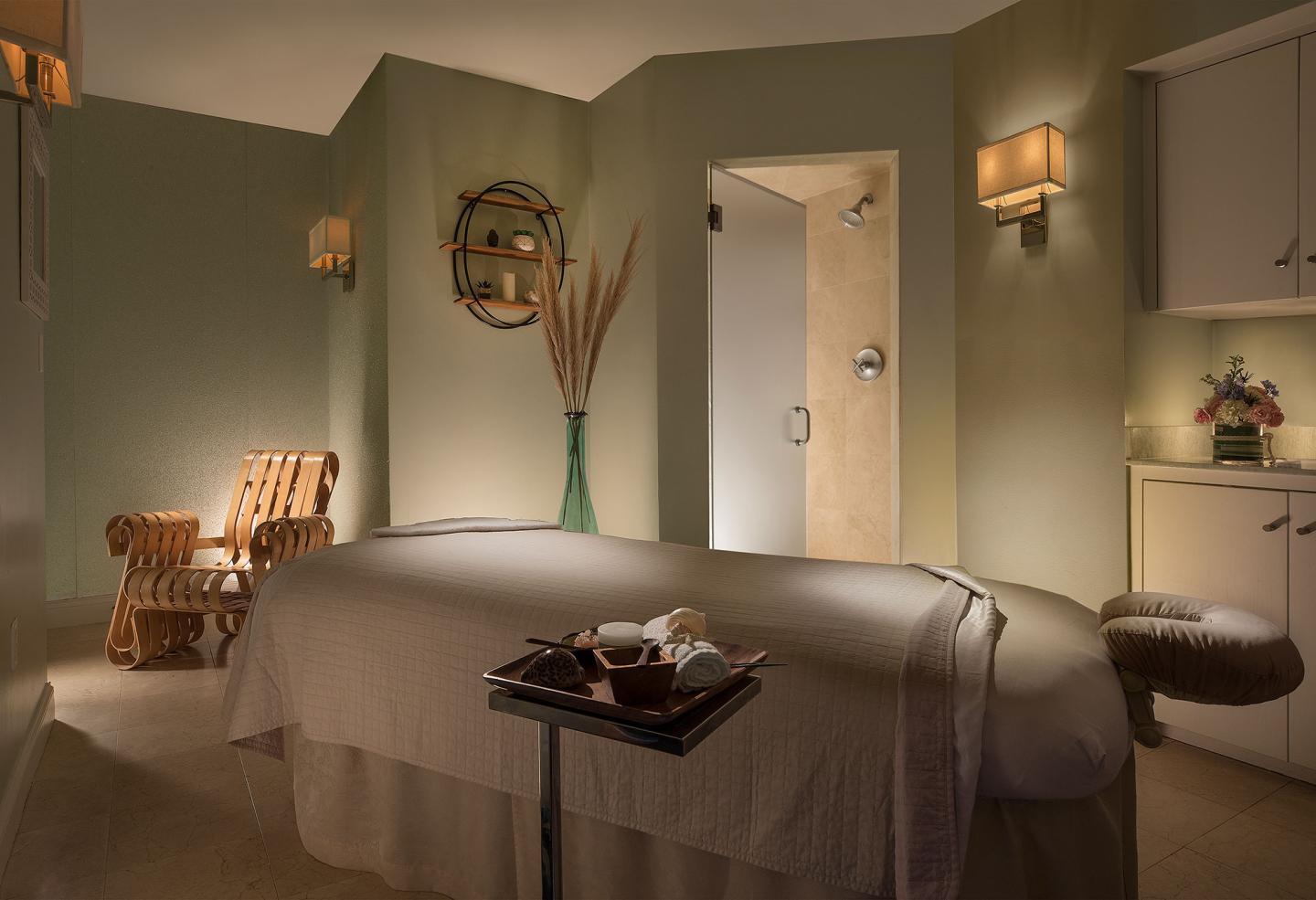 A world of discovery awaits you with treatments designed to soothe and restore the body, mind and soul. We have everything you need to completely escape and recharge before, during and after your treatment. Enhancements such as saunas, steam showers and our outdoor relaxation pool and hot tub prolong the feelings of comfort that surround you as you take the first step toward a better, healthier you. The possibilities are endless. The journey begins now. 
To reserve, please call 508-945-6737 or book online by clicking here.
Massage Therapies
Aroma Journey Massage 
Light Pressure
60 or 90 Minutes - $225/$285
This light pressure massage combines the power of touch with the healing benefits of Aromatherapy. Based on your preference, a custom blend of aromatic herbs, flowers and trees will heal, nourish and delight the body and ease the mind.
Blissful CBD Massage 
Light Pressure
60 or 90 Minutes - $225/$285
This CBD infused therapeutic massage is the gold standard of deep relaxation. Our CBD massage reduces joint and muscle pain, inflammation and promotes deep muscle release. This massage has the cooling benefits of camphor and menthol within its Broad Spectrum CBD blended all-natural luxurious lotion. By combining nature's remedy with skilled massage techniques, CBD massage is a holistic way to heal and treat your body and mind.
Deep Tissue Massage 
Medium to Deep Pressure
60 or 90 Minutes - $235/$295
A combination of medium to deep massage techniques will be blended throughout this treatment to reboot the mind and transform stress into balance. Various specialized techniques are used to relieve muscle soreness to those tired areas. Unwind the body with a relaxing, therapeutic, mindful experience.
Nirvana Stress Relief Massage 
Light Pressure
60 or 90 Minutes - $235/$295
Fall into this deeply revitalizing treatment using Aromatherapy and Swedish techniques to alleviate stress and tension in the muscles, while re-balancing and restoring your well-being. We combine a Meditation Alchemy of warm and spicy cardamom, sandalwood and sweet orange, which will stimulate the senses, Massage Therapies as a cooling Alpine Arnica Massage Oil soothes the mind, body and spirit. These exquisite blends of rare plant essences and extracts will nourish your senses and blissfully feed your soul. Once wrapped in a warm, relaxing cocoon, enjoy a therapeutic neck massage using peppermint leaf muscle cream. Pure Nirvana!
Ocean Massage 
Light Pressure
60 or 90 Minutes - $235/$295
Reflecting the movement of the tides, our signature massage carries away layers of stress and fatigue with successive waves of massage strokes from the head down to the toes. This massage utilizes warm stones, soothing the nervous system.
Couples/Side-by-Side Massage 
60 or 90 Minutes - Custom pricing based on selected services
Choose any two of our massage therapies offered to unwind and renew together. This option allows you to relax and connect in our side-by-side treatment room. This is a wonderful way to share time with your spouse, partner, mother, sister, or best friend. A side-by-side massage can be a positive, personal experience that provides many benefits both physically and mentally.
Mother of Pearl Massage 
60 Minutes - $225
With a blend of mother-and-baby safe organic oils to nourish the skin and reduce the appearance of stretch marks, enjoy all the comfort and relaxation you deserve with this specially tailored massage. This massage will be adjusted so it can be received any time after your first trimester.
Invigorating Hot Stone Massage 
90 Minutes - $295
This deeply relaxing treatment, featuring long connective strokes is designed to ease fatigue and soothe an over stressed nervous system. Pressure points are held to unwind and release the patterns that cause tension. Various stretches are incorporated throughout, to energize and spread relief all over the body. Warmed stones are introduced mindfully to aid the healing process. An ideal treatment for chronic muscle tension.
De-Stress by the Sea Massage 
30 Minutes - $150
Ease muscle tension in your neck, back and shoulders with this targeted 30-minute massage. A warm lavender blossom body oil will calm your nervous system and promote relaxation.
Massage Enrichment
This remedy is designed to enrich your massage experience without adding time to your service.
CBD Muscle Repair 
$25
Add this CBD sports cream to any massage treatment which is designed to help soothe sore muscles, tendons, and stiff joints. Ideal for reducing unwanted symptoms like pain or inflammation.
Cabana Treatments
Enjoy the elements of summer by selecting one of the following treatments in our private outdoor cabanas in our Zen Garden:
Aroma Journey Massage
Blissful CBD Massage
Deep Tissue Massage
De-Stress by the Sea Massage
Body Care
Sea Salt Scrub 
60 Minutes - $225
Mineral-rich salts polish the skin and cleanse the electromagnetic field that surrounds the body, leaving freshness that is complete and lasting. Skin is hydrated with warm algae oil to complete the treatment.
Rejuvenating Body Polish 
60 Minutes - $225
Soothe your skin and senses with this intoxicating body polish. This updated formula introduces Lychee Seed for ultimate exfoliation, alongside favorites Undaria seaweed and Volcanic Pumice to resurface the body from head to toe. Cannabis Sativa and Kukui Seed oils hydrate for your softest skin ever.
Espresso Mud Detoxifying Scrub 
60 Minutes - $225
Re-mineralize your skin while drawing out impurities. This deeply detoxifying, rich mud scrub blends traditional remedies to cleanse and replenish the skin. After exfoliation, a soothing body oil is applied to hydrate and moisturize, giving a luminescent glow.
Healing Seaweed Body Wrap 
90 Minutes - $295
This nourishing body treatment begins with a dry brush exfoliation followed by a soothing white algae body mask. As you lie cocooned, white algae gel is applied to the face to enhance deep relaxation. Finish with a light massage using warm algae oil to hydrate your skin, leaving it supple, moist and glowing.
Antioxidant Body Wrap 
90 Minutes - $295
This hydrating treatment will uplift your spirits and bring a soft glow to your skin. Beginning with an application of body polish that exfoliates the skin, follow with a relaxing massage using warm stones and an application of anti-aging body balm. Your treatment is followed by a warm body wrap to continue the deep rehydration, while your therapist releases tension with a facial massage.
Skin Care
Signature Facial 
60 or 90 Minutes - $225/$275
Allow our experienced estheticians to create the perfect facial for you. This customized treatment addresses your concerns and your skin's specific needs. Good for all skin types.
Clarifying Facial 
60 or 90 Minutes - $225/$275
Speed up skin cell turnover to enhance an overall glow and reveal healthy skin with this treatment. This healing facial deeply cleanses and soothes blemish-prone skin. This facial is ideal for oily, unbalanced, dull or sun damaged complexion.
Age-Defying Facial 
60 or 90 Minutes - $225/$275
This breakthrough treatment helps repair and nourish skin at the cellular level on your face and neck. A combination of potent anti-aging serums and treatment creams help to decrease wrinkles, even skin tone and restore firm radiant skin.
Vitamin C Facial 
60 or 90 Minutes - $225/$275
An essential treatment in any skin care regimen. Our synergistic, highly concentrated antioxidants are designed for optimized absorption in skin and proven by scientific research to help prevent free radical damage that can lead to the appearance of premature aging. This Vitamin C facial will improve the look of fine lines, wrinkles and discoloration. This is an ideal facial for sun-damaged skin.
Ultra-Calming Facial 
60 or 90 Minutes - $225/$275
Specially designed to target the triggers behind unwanted redness, itching and stinging, this treatment will restore and calm your skin. Our soothing mask focuses on reducing inflammation and increasing hydration. Clients who elect this service will experience the most relaxing way to a calmer, brighter complexion.
Gel-Peel Facial 
60 or 90 Minutes - $225/$275
This gel formulation ensures maximum acid delivery to target areas. The use of Glycolic acid or Salicylic acid will improve hydration, collagen synthesis and elastin fibers in the dermis and encourage cell renewal. We will target various skin concerns including fine lines and wrinkles, blemishes, enlarged pores and uneven skin tone.
Oxygen Facial
60 Minutes - $275
A breath of fresh air for your skin! Ideal for all skin types, this facial utilizes an oxygen infusion to improve hydration and radiance. Fine lines are minimized, and skin is nourished. Customized serums, dispensed via an oxygenated micronized mist will address all your skin's individual needs. Oxygen is naturally anti-inflammatory and healing, making this the perfect facial to calm and soothe acne-prone or sensitive skin. Your skin will glow!
Dermasound Facial 
60 Minutes - $275
The Spa's most popular facial. Your skin will be silky smooth and deeply cleansed with an immediate reduction in fine lines and rough textures as a result of this powerful treatment. The Dermasound wand exfoliates surface debris without irritation. A tailored combination of serums are then penetrated deep into the skin to create radiantly hydrated skin. Microcurrent therapy is used to boost your skin's collagen
and elastin and tighten slack facial muscles.
Express Facial 
30 Minutes - $150
An effective firming and hydrating treatment, helping to reduce the appearance of fine lines and relieve tension. Treatment includes cleansing, exfoliation, massage and mask.
Dermaplane 
30 Minutes - $95
An advanced exfoliation treatment or an add-on to any facial service for increased absorption of products. We expertly remove dead skin layers, surface debris and vellus hair with a manual feather-motion technique using a medical-grade surgical blade. An excellent way to soften fine lines, clean pores and allow for flawless make-up application.
Skin Care Enrichments
These remedies are designed to enrich your skin care experience without adding time to your service.
Dermaplane
$95
This is a cosmetic procedure that removes the top layers of your skin. The procedure aims to remove fine wrinkles and deep acne scarring, as well as making the skin's surface look smooth.
Dermasound
$50
The Dermasound wand exfoliates surface debris without irritation. A tailored combination of serums is then penetrated deep into the skin to create radiantly hydrated skin. Micro-current therapy is used to boost your skin's collagen and elastin and tighten slack facial muscles.
Gentle Hair Removal
Gentle Hair Removal
Lip or Chin
Brow
Nail Care
Coastal Manicure or Pedicure 
30 Minute Manicure - $55
45 Minute Pedicure - $75
To keep your hands and feet always looking their best—healthy and strong, we do not use any synthetic bonding products on your nails such as acrylic or powder dip nail color. We use natural, hydrating products that promote nail growth and hydration. Hands or feet will be soaked with essential oils, cuticles are perfected, nails are shaped and a luxurious massage of the hands or feet will follow. The service is completed with a professional application of a polish of your choice.
Signature Manicure or Pedicure 
60 Minutes - $80/$100
These luxurious treatments use a natural approach to help you achieve healthy nails and beautiful hands and feet. Your hands and feet will be left feeling nourished and hydrated. This treatment includes a hydrating mask and warm nourishing mitts or booties to help intensify hydration and leave hands or feet soft and supple.
Long-Lasting Shellac Manicure 
45 Minutes - $85
Our Shellac manicure is a unique and instant service with no added drying time. Treatment includes traditional manicure service with shaping of the nails and grooming of the cuticles. This service provides long-lasting, chip-free, flawless color with incredible shine. A hydrating hand and arm massage is included to top off this wonderful service. Nails are dry instantly. Please inform concierge if you have any gel polish on prior to treatment. There will be a fee for removal of gel polish products.
Mother of Pearl Pedicure 
45 Minutes - $95
Rejuvenate and hydrate overstressed feet with a soothing foot soak, exfoliation and massage. This treatment is designed for mothers-to-be and will help alleviate swollen and tired feet using all natural oils, scrubs and lotions.
Alive Feet 
30 Minutes - $75
This foot care treatment uses all natural products to detoxify and increase circulation in the legs and feet. This service includes an exfoliation of the feet followed by a clay-based detoxifying mask. Warm towels are applied to draw out toxins and a hydrating foot massage makes this service complete. This service does not include any nail work or polish service but it will leave your feet feeling alive and invigorated.
Nail Enhancements
French Polish or Shellac Removal
15 Minutes - $25
Please Note:
When scheduling nail services please mention if you currently have a Shellac or Gel polish on your nails.
In order to keep your nails healthy and strong, we do not apply any acrylics, powder dip or nail tips.
We are a natural nail spa. Therefore, we are unable to remove any dip, acrylic or silk wraps. We do not use any nail drills or synthetic bonding substances on your nails.