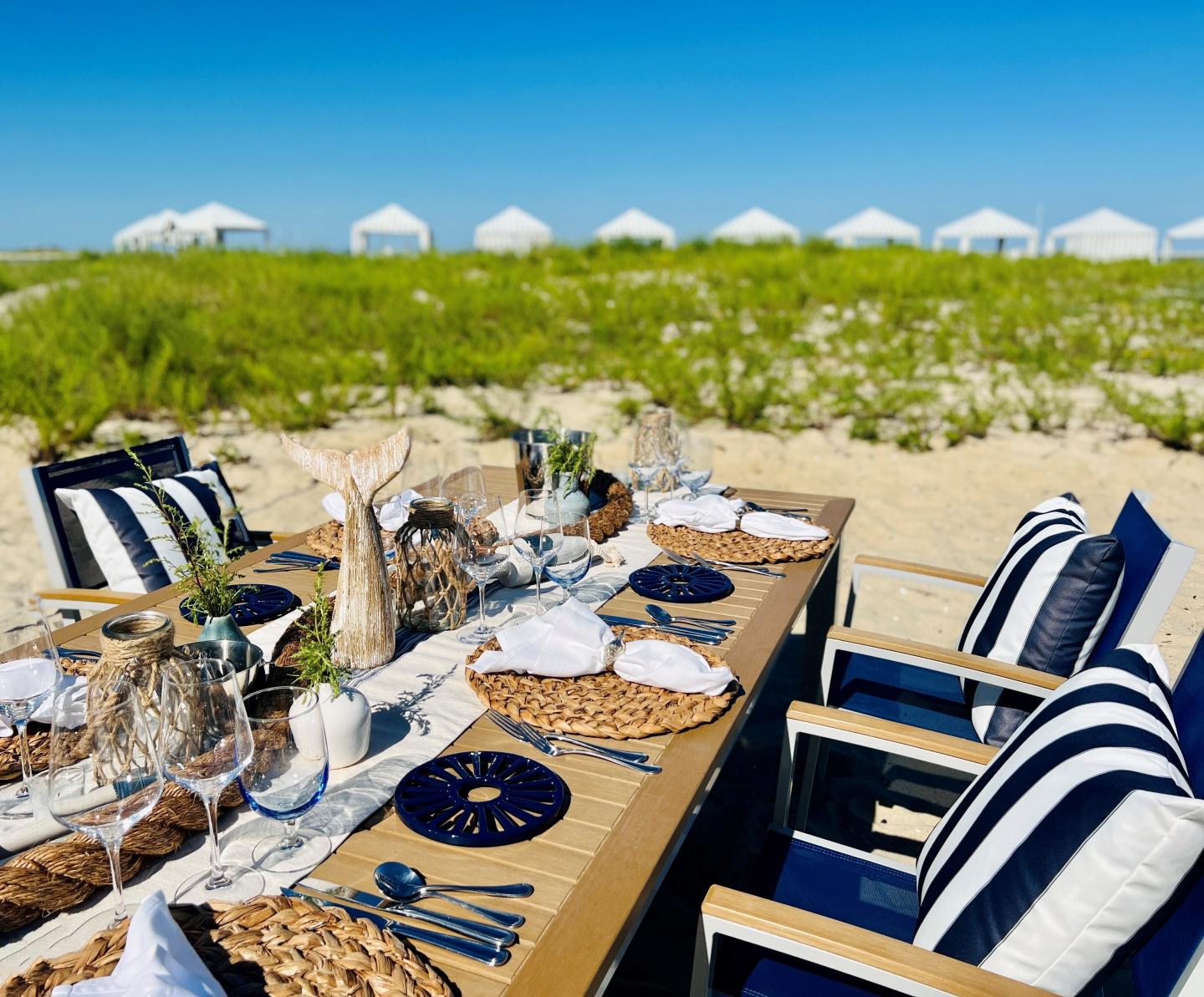 Private Beach Clambake Experience
Our newly-designed private beach clambake experience at Chatham Bars Inn has been more popular than ever! The private beach clambakes are a seasonal program and will return when the warm weather does in the Summer of 2024.
Open to the public as well as members and guests of the Inn, this new clambake experience features a private dining table with elegant table décor, an adjacent tableside smokeless fire pit and tiki torches on the beach for each party of up to 8 people and is hosted by one of the Inn's chefs preparing a multi-course family style clambake dinner from a welcome cocktail and appetizers through a selection of desserts including an elevated s'mores kit. The chefs will be preparing some courses on each party's private tableside firepit while others will be showcased on the Inn's established beach clambake pit with the "reveal" of the cooked lobsters, potatoes and corn then served directly to the private tables. After the sunset clambake, guests are welcome to continue enjoying the evening relaxing in Adirondack chairs around their private bonfire. 
The delicious clambake menu includes Chatham oysters, shrimp cocktail, littleneck clams, tuna tartare, clam chowder, Chatham steamers and mussels, marinated steak tips, lobsters, fresh vegetables from the Chatham Bars Inn Farm and much more. Please click below for the full menu.
The private clambake experience begins at 5:30pm and can accommodate three private parties per evening  
$1200 plus tax and gratuity for a party of four
$300 plus tax and gratuity for each additional guest (up to a total of 8 guests at a table)
Advance reservations are required and may be made through our Dining Concierge at 508-945-6732. Cancellations within 48 hours of the clambake will incur a full charge.