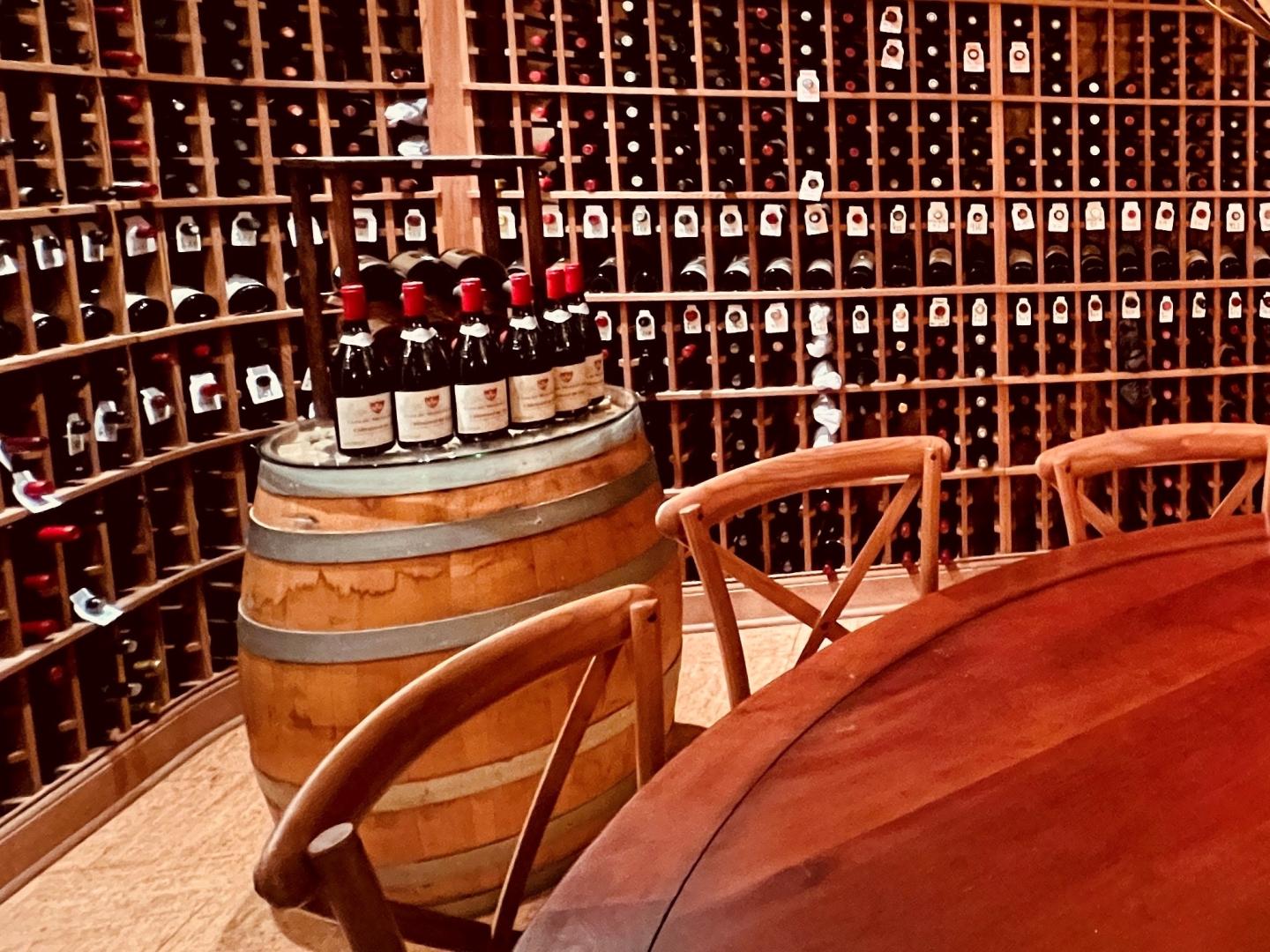 Taste and learn more about classic and lesser-known wines at our weekly winter Wine Tastings. A perfect winter evening begins with an in-depth discussion led by our sommelier or wine manager, followed by the opportunity to taste four different wines with accompanying paired snacks themed to the evening in a small group setting limited to 20 people in either our wine cellar or chef's table. Our Wine Tastings will be offered from 6pm to 7:30pm most Thursdays from January 5th through March 30th.  Take notes, share your thoughts and enjoy a convivial gathering celebrating the wine selections each week.
Weekly topics include wines from different regions such as Spain and Portugal, Argentina and Chile, Italy, France's Bordeaux and Loire Valley and more as well as California Wines and The World of Sparkling Wines.
Wine Tastings are open to the public as well as guests of the Inn, tickets are $70 per person per class, inclusive of tax and 18% service charge. Reservations must be made in advance through Eventbrite. Standard Eventbrite fee applies.
Cancellations received 72 hours or more in advance will incur no charge. For cancellations received 48 – 72 hours in advance, there will be a 50% charge per person. And for cancellations received less than 48 hours in advance, there will be a charge of 100% per person. (Please note: Eventbrite fees are non-refundable.)
January 5 - California Wines
One of the most recent wine regions of the world but today probably one of the most influential, from the Central Coast all the way up to Napa and Sonoma, the Californian wine scene has evolved in a tremendous fashion.
January 12 - France
Burgundy and Rhone Valley: Burgundy is often thought of as one of the world's most prestigious and historical regions of wine making. The Rhône Valley offers beautiful and traditional French wines split between the northern and southern side of the Rhône River. 
January 19 - Alsace, Germany, and Austria
In the heart of Europe, Alsace, Germany, and Austria have so much history in terms of wine making, wine laws and unique ways of harvesting and processing wines, from lusciously sweet to bone-dry wines, the diversity of those regions will submerge you into a new specter of flavors.
January 26 - South Africa, New Zealand, and Australia
On the Southern hemisphere of the globe, where the climate can be very challenging to produce wines, those emerging wine producing countries are now part of the most popular wine regions of the world, challenging the Old World by offering gorgeous wine selections. 
February 2 - World of Sparkling Wine
Champagne, Prosecco, Cava… Everyone has probably tried those types of wine but let's dig into those wine laws and wine making process that allows the wine makers to name bottles with those appellations. Every day in life is an opportunity to celebrate, nothing better than bubbles to go with it!
February 9 - France
Bordeaux and Loire Valley: Without a doubt, Bordeaux represents the myth and tradition of wines, with vineyards and chateaux that are few hundred years old and the most well-known and expensive wines produced. The historical Loire Valley offers amazing wines influenced by the Loire River, from the Atlantic coast to the center of France. 
February 16 - Spain and Portugal
Going into the Latin warmer side of the continent, Spain is well known for its rich and flavorful wines made from local grape varietals. On the Pacific coast, Portugal is a landmark for fortified wines, both countries will elevate your wine pairing skills with traditional local foods. 
February 23 - Argentina and Chile
Surrounded by the Andes Mountains, Atlantic and Pacific Oceans as well as many different types of topography, these two countries define the identity of South American wines by producing intense rich red wines and bright fresh whites. 
March 9 - Wines of North America
From East Coast to West Coast, the US proved to the world their capacity of creating magnificent wines from European grapes on young American soil, bringing these new wine regions to the top shelves of the wine markets. 
March 16 - Italy
Discover the famous regions of Italy which produce some of the most unique and intense grapes that exists, from Piedmont to Lombardi to Tuscany. 
March 23 - Sweet and Fortified Wines
Aperitif, Digestif or often a great option for after dinner dessert drink, those types of wines have unique and specific ways of being produced, coming from all over the world.