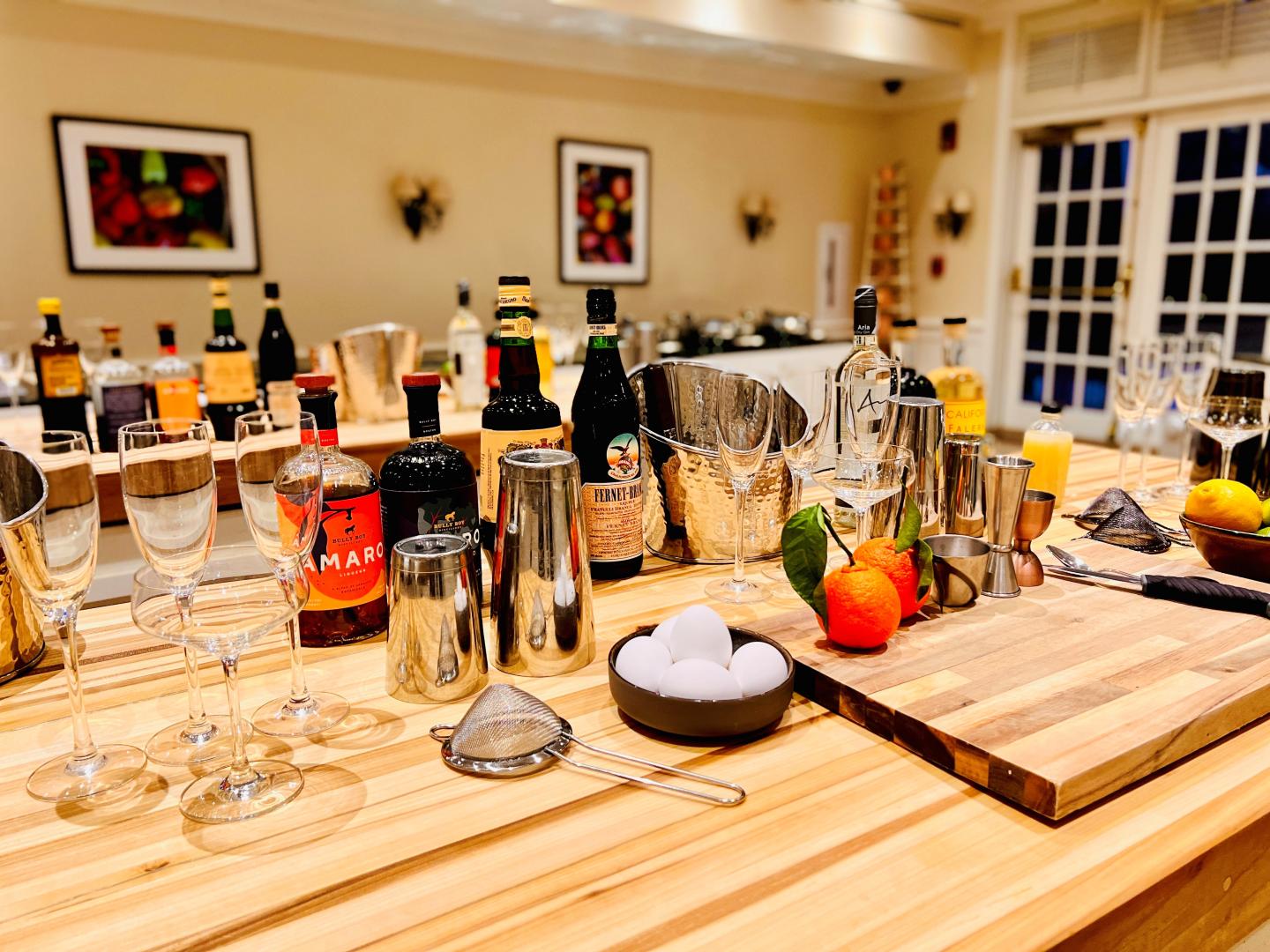 Many of you know Adam Couto, the Inn's Assistant Food & Beverage Director, who is sincerely passionate about cocktails and a Master of Mixology!  Adam will be hosting his interactive, hands-on mixology classes in our Chef's Table most Fridays from 6pm to 7:30pm from January 6 – March 23, 2023. Guests will be greeted with a welcome cocktail and make their own cocktails preparing ingredients and garnishes, walking away with recipes for everything made during the class. Class size is limited to 15 to provide personalized attention to all attendees.
Each week's class has a particular focus including Gin, Tequila, Vodka, Whiskey and Liqueurs as well as Bitters & Shrubs, Garnish Wars and more. There are even specialty classes highlighting spirits for Valentine's Day and St. Patrick's Day. 
Mixology classes are open to the public as well as guests of the Inn, tickets are $81.25 per person per class, inclusive of tax and 18% service charge. Reservations must be made in advance through Eventbrite. Standard Eventbrite fee applies.
Cancellations received 72 hours or more in advance will incur no charge. For cancellations received 48 – 72 hours in advance, there will be a 50% charge per person. And for cancellations received less than 48 hours in advance, there will be a charge of 100% per person. (Please note: Eventbrite fees are non-refundable.)
January 6 - Introduction to Mixology
An overview of mixology tools and techniques, blending flavors, building, and presenting cocktails. 
January 13 - Whiskey
Explore the different styles of whiskey around the world (American Bourbon, Rye, Irish, Japanese and Scotch) Learn flavor profiles and make a cocktail with one of your favorites.
 
January 20 - Bitters and Shrubs
Learn how to make your own bitters and shrubs and discover how these amazing additions to cocktails completely change the drink. Each guest will make their own bitters and shrub to take home with them (bitters will be mailed 4-6 weeks after class).
 
January 27 - Amaro and Fernet
This is a great class for anyone who enjoys bold and complex flavors! A little history and some amazing cocktail potential with these amazing spirits.
February 3 - Vodka
Not all vodkas are the same and believe it or not some even have taste! Vodka cocktails can be modified countless ways to highlight their delicate profiles.
 
February 10 - Valentine's Day Cocktails
Drinks for lovers, or haters, we don't judge. Chocolate covered cherries and rose bouquets aren't just meant for cliché gifts. Perfect for date night!
 
February 17 - Wine Based Spirits
Vermouth, Cognac, Brandy and other spirits finished in wine barrels. Many superb on their own and always fun in cocktails!
 
February 24 - Make your own Liqueur
A fun and easy way to "wow" your guests or make gifts for friends and family! We'll make a couple of our own liqueurs while sipping on cocktails highlighting what we're making.
 
March 3 - Garnish Wars
Garnishes are just as important as the glassware and the liquid inside it. We will learn tricks and techniques for amazing cocktail garnishes and enjoy a cocktail or two!
 
March 10 - Rum
Explore the world of rum, the history, lore, and facts about this sweet spirit. We'll dive into some Tiki cocktails along our journey too!
 
March 17 - St. Patrick's Day
Everyone is Irish on St. Patrick's Day!  Learn how to make a proper Irish Coffee, learn a little about Irish Whiskey, Guinness, Baileys, and turning things green!
 
March 24 - Gin
If you don't think you like Gin, you've probably tried the wrong one. Or, maybe not had the right Gin Cocktail.  Discover the world of Gin and what makes this amazing spirit so special!
 
March 31 - Tequila
An often-misunderstood spirit category, there's a lot to learn about the world of tequila.