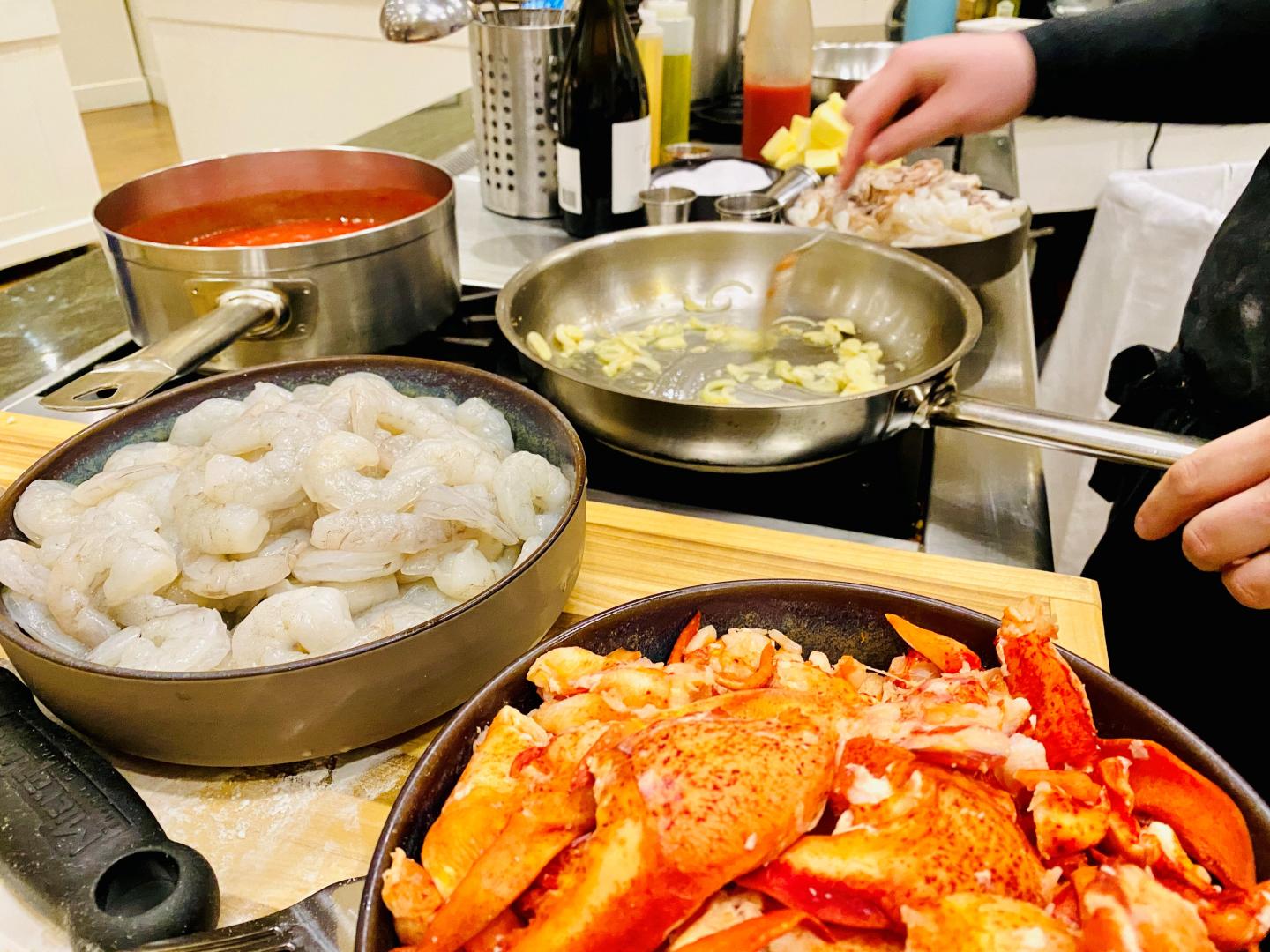 Whether you are already an accomplished at-home Chef or someone who has been wanting to sharpen your cooking skills or learn something new, join our Chatham Bars Inn Cooking School. Enjoy a 90 minute uniquely curated culinary experience by one of the talented Chatham Bars Inn Chefs. Each highly interactive and entertaining class is limited to a group of 12 and includes hands-on teaching of multiple dishes and will end with a family-style dinner showcasing your creations.  
Our classes take place most Wednesdays 6pm – 7:30pm from January 4th through March 29th and include instruction, tastings and a fully prepared family-style meal based on the class topic. Topics change each week and include farm-to-table, pasta, tacos, home butchery and more. There are even fun themed classes highlighting specialties to get you ready for Mardi Gras, The Superbowl, Valentine's Day, St. Patrick's Day and Easter.
Cooking Classes are open to the public as well as guests of the Inn, tickets are $75 per person, inclusive of tax and 18% service charge. Reservations must be made in advance through Eventbrite. Standard Eventbrite fee applies.
Cancellations received 72 hours or more in advance will incur no charge. For cancellations received 48 – 72 hours in advance, there will be a 50% charge per person. And for cancellations received less than 48 hours in advance, there will be a charge of 100% per person. (Please note: Eventbrite fees are non-refundable.)
January 4 - Farm To Table
Spinach and Artichoke Pie, Soy Caramel Brussels Sprouts, Beet Salad, Roasted Sunchokes, Vegetarian Wellington
January 11 - Pasta
Cold Capellini Pasta, Hand Cut Pappardelle, Bolognese, Raviolo, Panzerotti Con Ceci
January 18 - Home Butchery
Chicken Stock, Chicken and Dumpling Soup, Chicken Three Ways (Trussed for Roasting, Spatchcocked for Grilling, Ballotine)
January 25 - Tacos
Birri, El Pastor, Jackfruit Carnitas, Pico De Gallo, Guacamole, Spanish Rice
February 1 - Superbowl Party
Lobster Nachos, French Dip Sliders, Queso Dip, Chili, Mason Jar Shortcake
February 8 - Valentine's Chocolate
Chocolate Cups, Chocolate Mousse, Tuxedo Strawberries, Hand Piped Truffles
February 15 - Pier To Plate
Oysters, Clams Casino, Poached Lobster, Whole Roasted Pollock
February 22 - Mardi Gras
Hush Puppies, Shrimp and Grits, Jambalaya, Etouffee, French Crullers
March 8 - Brunch
Overnight Oats, Soft French Omelet, Eggs Benedict, Dutch Baby  
March 15 - St. Patrick's Day
Irish Soda Bread, Boxty, Irish Coddle, Boiled Dinner, Irish Shortbread
March 29 - Easter
Deviled Eggs, Braised Lamb Shoulder, Scalloped Potatoes, Hot Cross Buns