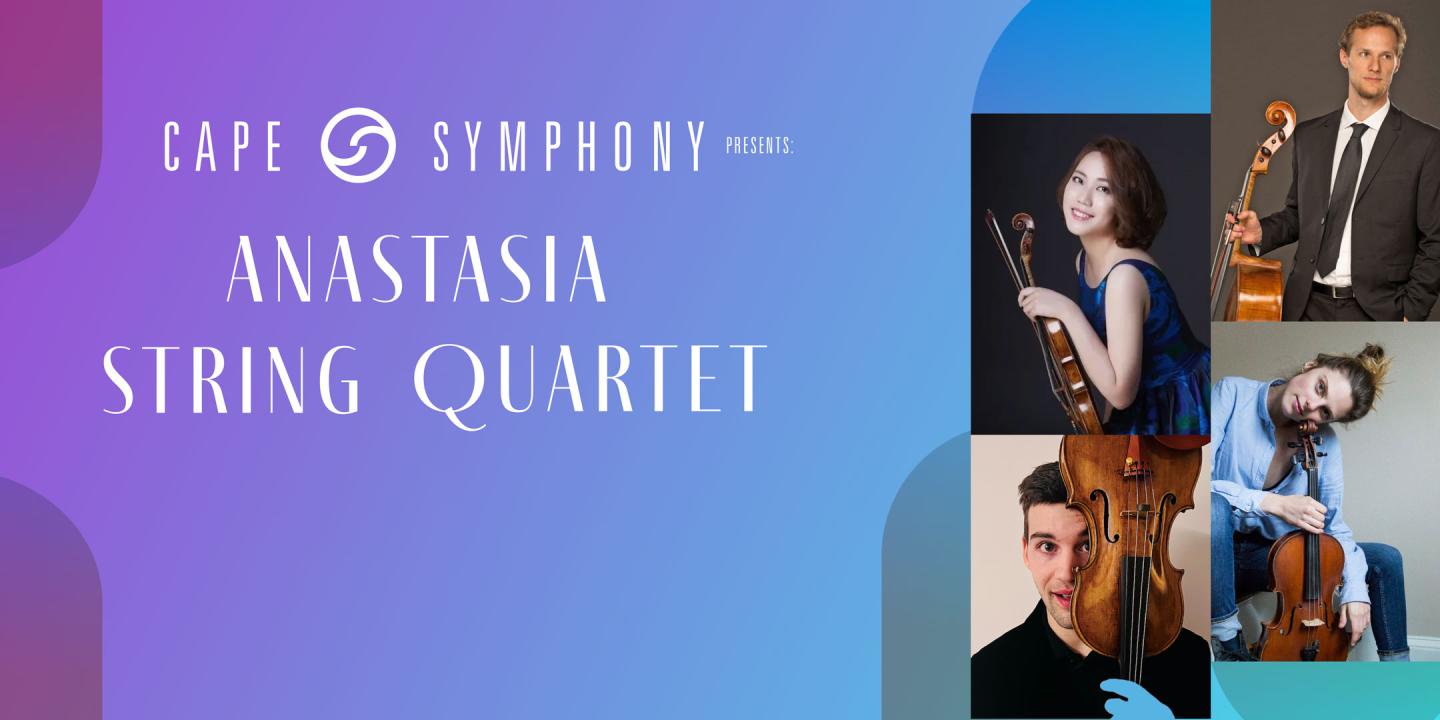 Cape Symphony Presents: Anastasia String Quartet at Chatham Bars Inn
Join the Cape Symphony and Chatham Bars Inn on Thursday February 23rd for an unforgettable evening featuring a performance by the Anastasia String Quartet in the Monomoy Ballroom at Chatham Bars Inn. Enjoy a lovely evening including a decadent selection of canapes, hors d'oeuvres and desserts as well as beer, wine and non-alcoholic beverages. A cash bar will also be available for cocktails.
Led by composer, cellist, and pianist Sebastian Bäverstam, the Anastasia String Quartet sits at the crossroads of tradition and heritage while pushing the limits and boundaries of what's musically expected and possible with two violins, a viola, and cello. The quartet was founded on the premise that classical musicians can branch out into other genres, "disrupting" the perceptions of how classical repertoire is experienced. The name 'Anastasia' means rebirth, and now is the perfect time to renew our concept of music.
The Anastasia String Quartet – Bäverstam and his colleagues Anna Stromer, Jean Huang, and Theo Payen – will perform classical favorites along with amplified pop arrangements including music from Queen, Harry Styles, Nirvana, Ariana Grande, Jessie J, Nicki Minaj, Doja Cat, and Bruno Mars.
Anastasia String Quartet is hosted by Cape Symphony Presents, a new event promoting arm of the Cape Symphony that provides opportunities to artists across all genres, introducing them to the Cape and Islands community through dynamic live performance and exciting innovation.
Ticket price is $99 per person for the evening event inclusive of food, beer, wine and non-alcoholic beverages. Or, make a night of it with our Symphony Getaway package including an overnight stay and two tickets to the performance.
6:30pm: Hors d'oeuvres and beverages
7:00pm: Anastasia String Quartet performance
8:00pm: Desserts and beverages
Advance tickets are required. Please click below to purchase through Eventbrite.
Book Here
To reserve the Symphony Getaway overnight package, please Click Here. 
Quartet Biographies:
Leading an active musical life in various areas of the music industry, Sebastian Bäverstam is a composer, cellist, and pianist as well as an improviser and conductor. A winner of numerous awards as a cellist such as the Concert Artists Guild international competition in 2010, and the Boston Symphony concerto competition in 2006, Bäverstam has now made his foray into a double career as performer and composer. 
Anna Stromer is a violist based in New England. As a performer, session musician, and composer, she has worked with artists and ensembles such as Eminem, Boston Ballet, Michael Buble, Cautious Clay, Jacob Collier, Tigran Hamasyan, 2Cellos, Kansas City Ballet, Josh Groban, and Jared Leto. Her string quartet has performed for Barack Obama and Conan O'Brien and has been featured on "Good Morning America" as well as TV shows such as "Modern Family" and "Gossip Girl."
Taiwanese violinist Jean Huang's active performing career has brought her to concert halls internationally and throughout the United States. Huang holds Bachelor's, Master's, and Doctoral of Musical Arts degrees in Violin Performance with honors from the New England Conservatory with the doctoral thesis topic "A Performative Analysis and the Critical Edition: Francis Poulenc Violin Sonata." Jean currently serves as the concertmaster of the Cape Cod Chamber Orchestra and the Vangarde Symphony Orchestra.
New York resident Theo Payen studied the violin at the Brussels Conservatory with Philippe Graffin. He continued his musical studies at Berklee College of Music/New England Conservatory with Sharan Leventhal and Miriam Fried. For nearly fifteen years, Theo has performed with various chamber music ensembles, orchestras, and studios. Since 2022, he has been a regular supplementary member for the MET Orchestra and the Norwalk Symphony, and he also plays major events such as Broadway musicals. He has also performed on tour with Academy Award-winning composers Hans Zimmer and Ennio Morricone.